I've always been drawn to the glossy appeal of a beautiful accent plate. There's something seductive about the curve and shape of a plate, the life that it brings into the kitchen/dining room....
I have two sets of dishes (three, if you count the beautiful white set that we received for our wedding but those are currently boxed up in my parents' basement, anxiously awaiting the day when we have more than 7 cabinets). One is my fun (favorite) set - they are multi-colored, not-quite round, and have more than a couple chips in them. They are fun and rustic and bright and filled to the brim with personality. Unfortunately, food does not photograph well on them....so you've been seeing my 2nd set, which is just plain white. (Our third set is also white - but nice.) When it comes to food presentation, I think it's best for the main dinner plate to be solid white, because not only will your food have a blank palate on which to lie, but you can also dress the plates up or down by mixing and matching various accent plates (and bowls and napkins and decor and so on and so forth).
I was doing a little  online "window shopping" for my friend Sarah yesterday, and I stopped and took a few minutes to check out the dinnerware on display at some of my favorite home websites. I love accent plates (they're kind of like shoes...but for food) and imagine that, when I am wise and gray-haired with many more cabinets than I have now that I will be like the infamous "cat lady", only instead of cats I'll have plates. Until then, I'll just look longingly at the plates for sale around the web. Here are a few of my favorites from yesterday's "window shopping":
I like these Oliver Appetizer Plates from cb2.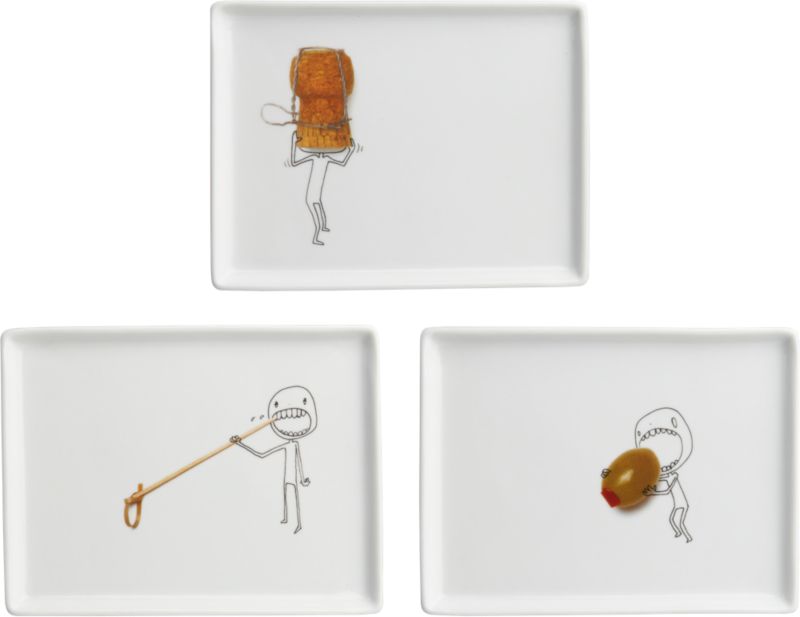 They make me smile when I look at the little guy on them; I mean, he has a cork stuck on his head! That's funny stuff. I can just imagine serving little chunks of cheese and olives on these at a martini party with friends.
As for these Ladies-in-Waiting Plates from Anthropologie, I want to have all my girlfriends over for brunch so we can eat off them!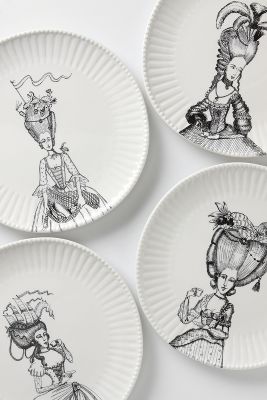 They are so cute and I love that they are black and white. I want to use them with solid white plates and fussy little cloth napkins.
I know birds are the trendy it-thing right now, but I still love them when it comes to decorating. This plate is the Bird Sketches Canape Plate from westelm, which feels so streamlined and modern.
A nice bright appetizer (hello, bruschetta!) would be lovely on these plates, since they are clean and simple.
Here's a set of bright and fun French Cheese Plates from Sur la Tabe.
You could dress these up or down, depending on your occasion. They are whimsical and fun and yet fairly classy at the same time.
And now two final sets of plates from Inglenook Decor: I love the Bohemian, garden-party vibe of the Rosanna Boho Dessert Plates, as well as the Chair Display Petit Tray plates.
I literally want to pluck one of these chair off the plate and curl up in it with a pastry and a coffee.
So now I want to know....what is your style when it comes to picking out dishes? Do you have any plates that you love? I would love to hear about them (or see them!) below!